Part 1 of our 2-part list of top 8 highlights of the Chinese space sector in 2021 saw some impressive ones. We led off with the Sino-Russian ILRS, a multi-decade Lunar development program, before touching on the landing of the Zhurong rover on Mars in early 2021. Moving over to LEO, we covered China's broadband constellation ambitions, which saw development through 2021, and SAR and other EO technology starting to go mainstream.
The second half of the list starts with a year in China's launch sector which was eventful but was also, remarkably, something of a let-down in some way.
5. A significant year for launch, but that should have been bigger
On paper, it seems that 2021 has been an absolutely extraordinary year for Chinese launch, and it arguably is, in many regards: with 55* launches, China literally shatters its previous record of 39 launches in 2020 and takes the lead, leaving the US behind at (the very honorable number of) 45 launches (or 51 if Rocket Labs NZ launches are included). And that's saying something considering that SpaceX has been massively pumping out and deploying Starlink satellites.
*The count for China's launches corresponds to the official one, excluding the unofficial FOBS/HGV Long March 2C launch in July 2021.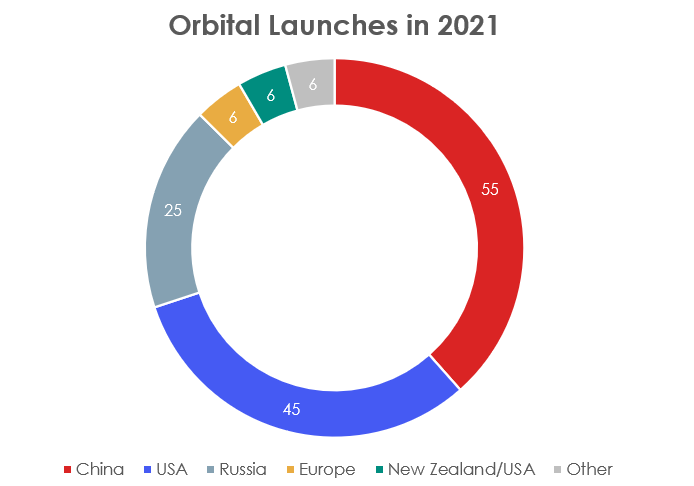 Now behind this massive number of 55 launches are actually two separate worlds:
– The massive Chinese national space program, which represents an overwhelming majority of these launches, including many high profile payloads: all Chinese Space Station launches, science missions like the space-based solar observatory CHASE and Guangmu (Sustainable Development Science Satellite), many civil and military EO satellites (Gaofen, Yaogan), and comms satellites like GEO narrowband comms Tiantong and Tianlian relay satellites. Equally impressive were the details provided of future lunar rockets, the Long March 5DY and Long March 9, which will be the workhorses of China's ILRS lunar base program, with hints of a maiden launch for the former by 2026.
The second one is less exceptional, commercial launch. 2021 should have been an unprecedented year for Chinese commercial launch companies:
Zhuque-2 (ZQ2): We were expecting the maiden launch of the ZQ-2, the medium-lift liquid-fueled launch vehicle of Landspace, which would have been a milestone in the development of medium-lift and liquid-fueled rockets among China's commercial launch companies. Had the launch taken place, Landspace would have been the first launch company worldwide to perform an orbital launch of a methalox fueled rocket, in front of SpaceX's Starship (although naturally both launch vehicles are very different…).
Hyperbola-2Z (SQX2): iSpace's Hyperbola-2Z is a single stage version of the methalox fueled, medium-lift Hyperbola-2 launch vehicle. iSpace has adopted a different strategy to Landspace: they seem to want to make the Hyperbola-2 reusable from day one, which is why they are first planning to hop test VTVL first stages, the Hyperbola-2Z. The Hyperbola-2Z was initially planned for 2021, but this has now slipped to 2022.
Tianlong-1: Finally, the Tianlong-1, also a liquid-fueled reusable rocket by a Chinese company called Space Pioneer (or Tianbing Aerospace), had ambitiously mentioned a maiden launch in 2021, but this has also slipped to 2022.
Beyond these highly symbolic launches not taking place, there were also some pretty big setbacks for 2 commercial companies: Expace (failure of the Kuaizhou-1A rocket) and the double failure of the Hyperbola-1 for iSpace.
This doesn't mean the year was all bad for Chinese commercial launch: we did see some major milestones such as the 100m hops of Deep Blue Aerospace, and the return of presumed dead companies such as OneSpace and Linkspace. Galactic Energy successfully launched two Ceres-1 rockets in a row, a first for a Chinese commercial launch company. The company also plans to ramp up to 5 launches in the next 12 months. So not too bad, but still a bit of a let-down based on initial (high) expectations.
The corollary of the 2021 commercial launch slippage is that 2022 should in theory be unprecedented: not only should we see the maiden launches of the aforementioned rockets, but also the CAS Space ZK-1A, the China Rocket Jielong-3, and possibly the Expace Kuaizhou-11 and Deep Blue Aerospace Nebula 1.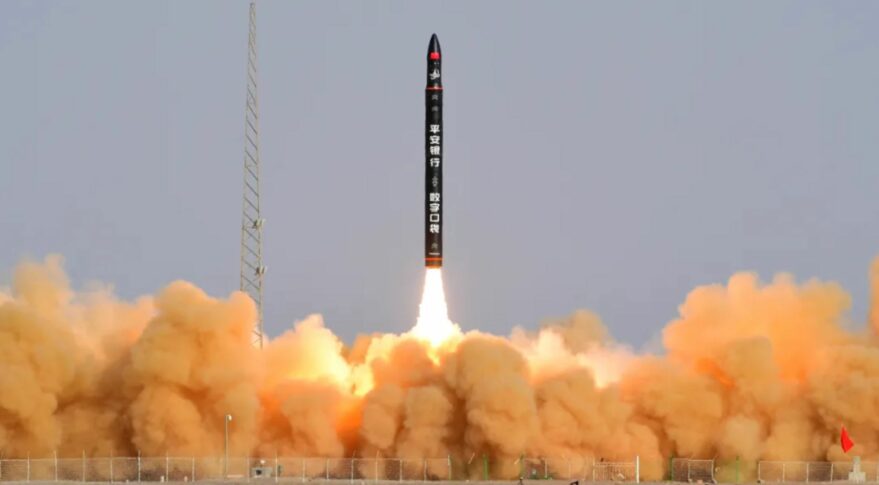 6. Developments in Launch Infrastructure
China's launch infrastructure saw a big year, in particular commercial launch sites and sea launch facilities. Commercial launch sites made an appearance in multiple five-year plans, notably the national-level five-year plan and the Zhejiang Province plan. In Zhejiang, the commercial launch site is being built in Xiangshan, Ningbo, which is not far down the coast from a rapidly-growing commercial launch industry cluster near the mouth of the Yangtze River. The launch site was first proposed in 2018, but began to pick up momentum in 2020 when it was included in the major project list of the Zhejiang Province 14th Five-Year Plan (2021-2025), a draft of which was published in April 2021.
The Five-Year Plan specifies the "Ningbo International Commercial Launch Center" as one of the province's major projects over the coming 5 years. According to the Zhejiang Provincial Government, the launch center has an investment of ¥20 billion, and will cover an area of 67 sq km, of which 35 sq km will be launch site and 32 sq km will be for supporting infrastructure. The annual launch capacity is expected to be 100 launches.
Moving forward, we expect the launch site to become an important part of China's space infrastructure by 2025. Ningbo's location on the sea, its large port, and its access to major space industry infrastructure in Shanghai, should all benefit the development of the Launch Center.
Shandong Province has been home to a number of updates related to a launch site in Yantai, and multiple sea launch initiatives which may be based in/near Yantai. Activity at Yantai has included assembly of a ZK-1A rocket from CAS Space, an apparent Zhuque-2 sighting, and an October ceremony for a sea launch facility at the Oriental Space Port or 东方航天港.
The sea launch facility includes a new type of ship measuring 162.5m long and 40m wide, a story that we covered in-depth a few weeks ago on the Dongfang Hour. Multiple commercial launch companies have made statements related to sea launch during 2021, including CAS Space, Galactic Energy, and oSpace, with the latter having a major presence in Shandong.
In the South of the country, Hainan has seen activity from commercial companies and local government. In September, we saw the Wenchang International Aerospace Forum, held in Haikou, which saw officials emphasize the benefit of Wenchang's southerly latitude for GEO launches, and also encourage commercial launch companies to set up in Hainan.
The commercial launch companies heard the call, with November seeing iSpace set up a subsidiary in Wenchang. During the opening ceremony for iSpace Wenchang, the company and the local government agreed to work together to promote commercial launch. We also saw an interview with CAS Space General Manager Hu Xiaowei in December 2021, during which he noted that in the future, the company might ship rockets from its facility in Guangzhou to Hainan by sea.
Ultimately, at the end of 2021, China's launch infrastructure remains the same as it has been for some years, namely 4 state-owned launch sites located very far from most cities and most of the rocket supply chain. However, during this year, we have seen the foundation laid for a new generation of launch sites that will be more coastal, more flexible, and more integrated with existing supply chains.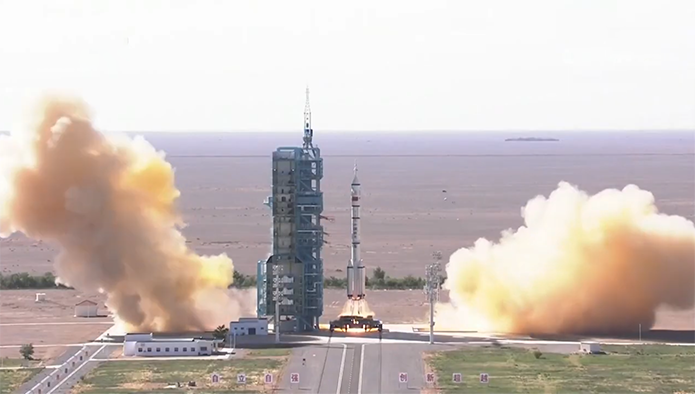 7) Space Tourism and Spaceplanes
Similar to the west, this year also saw space tourism become more mainstream in China following launches from SpaceX and Blue Origin. Most recently, we saw Justin Sun, a Chinese crypto millionaire, book a flight on a Blue Origin rocket for 2022 for he and 5 others.
More directly related to Chinese space, 2021 saw iSpace and CAS Space announce plans for a "Chinese New Shepard", while Space Transportation completed multiple rounds of funding and a number of test flights of its Tianxing series of supersonic (hypersonic?) testbed vehicles, while also announcing plans for a suborbital tourism spaceplane.
These plans have been met with increasing financial support, with Space Transportation having raised ~RMB 300-400M during the year, and CAS Space completing several funding rounds. Multiple companies seem to be straddling a line between different shades of space tourism, reusable spaceplane, commercial launch company, and other undefined or niche verticals.
Arguably, this is similar to companies in the satellite manufacturer/satellite operator space that are straddling the line between different business models related to satellite manufacturing/operation, uncertain of which area will become more/less regulated. In this case, we see companies developing several technologies that could be applied to hypersonic spaceplanes, space tourism, etc.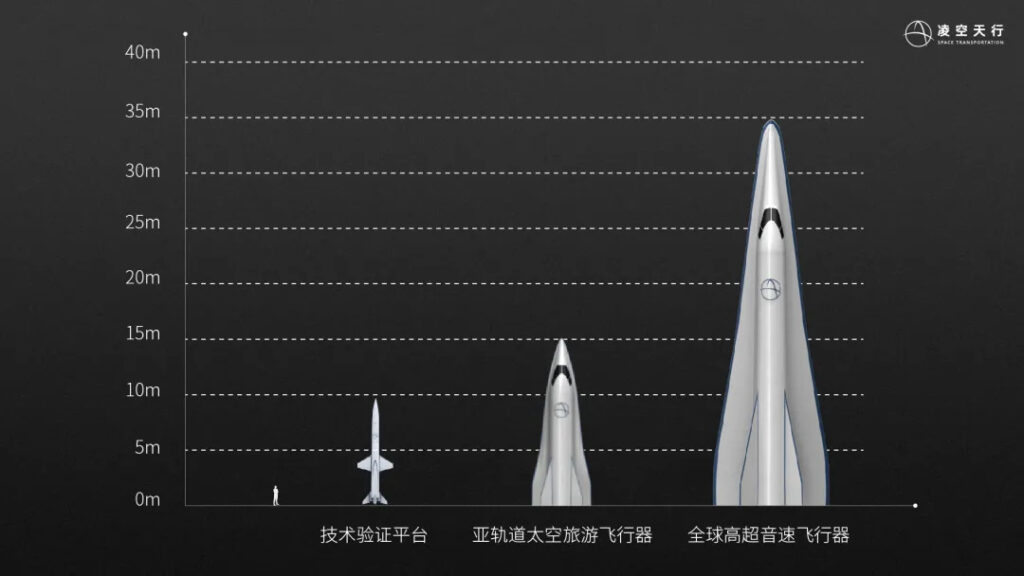 8) China begins the construction of its ambitious Chinese Space Station
The construction of the Chinese Space Station represents the culmination of 30 years of work of Project 921, China's crewed spaceflight program. A quick retrospective: this project first consisted in the late 1990s and early 2000s of developing a human-rated rocket, the LM-2F, and a crewed spacecraft, the Shenzhou, which is basically an upgraded Soyuz spacecraft design. This phase was successfully concluded in 2003 when China's first Taikonaut, Yang Liwei, was sent into orbit. The next phase, spanning from the mid-2000s to ~2017, was aimed at gathering technologies to enable human activity in LEO (building experimental space stations, cargo spacecraft, practicing space rendez-vous and docking, designing a spacesuit, performing spacewalks).
And finally in 2021, the 3rd phase has begun, with the construction of the permanent Tiangong Space Station (literally "Heavenly Palace"). This phase will last 2 years only, being completed next year.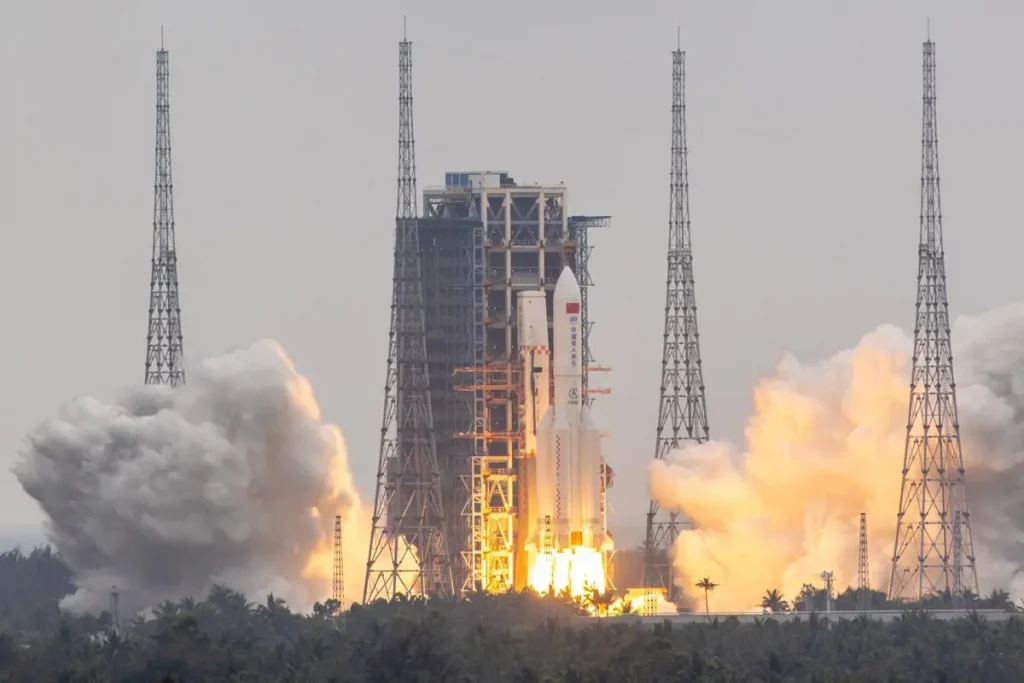 The Tiangong Space Station is composed of 3 modules: the Tianhe-1 core module, and two experimental modules called Wentian and Mengtian. Tianhe was launched in April 2021, and since then, has been visited by two teams of taikonauts on two Shenzhou spaceflights, of which the last team of 3 taikonauts are still on-board and planning a 6-month stay. Two cargo missions, Tianzhou 2 and 3, also docked with the station, delivering equipment and food/water supplies.
Overall, this represents 5 launches related to China's crewed spaceflight program in 2021, an unprecedented dynamic since the beginning of the crewed program, and it will be followed by 6 launches next year which will complete the space station. Tiangong represents the second station in service at the moment to orbit the Earth, alongside the ISS which should still be in service until the end of the decade.
Conclusions
In what has been an incredible few years for the Chinese space sector, 2021 may have been, overall, the most impressive year yet. We saw many achievements take place during the year, including the launch of Tianhe, the successful arrival at Mars of Zhurong, and the launch of various space science, comms, and EO missions.
We also saw the groundwork laid for many more major projects over the coming few years. The ILRS has a multi-decade timeline, a full Guowang-type constellation likewise could be a decade-long or more project. Advancements have been made in important technologies such as SAR and launch vehicles, which creates the foundation for impressive feats moving forward, but also sets high expectations for 2022 and beyond. 2021's announcements and trends give us some indication of what 2022 will bring us.
As we move through 2022, be sure to check our weekly newsletter with updates on all the latest developments, including some that will inevitably make it to next year's top 8 list!