The Paris Airshow is one of those international events where almost the entire industry comes to one place. While historically focused on aviation, the exhibition (first held in 1909!) has a strong space component. During my 2-day visit to the show, I centered my itinerary around Chinese companies, the main focal point of Dongfang Hour.
While the Chinese have always participated in the exhibition, their delegation seemed comparatively less present this year. This impression stemmed from the absence of several major state-owned enterprises (SoEs) like CETC, and perhaps a slightly more modest stand for COMAC, the Chinese competitor to Boeing and Airbus in the commercial aviation sector.
A Stronger Presence of the Chinese Space Industry
This perception changes when moving away from aviation and looking at the space industry. At the Paris Air Show, China has historically been present through CGWIC (China Great Wall Industry Corporation), the commercial arm of China's largest space conglomerate CASC. In addition, this year, a delegation of commercial space companies also purchased booths. This included two launch companies, CAS Space and Galactic Energy, the remote sensing services provider Piesat, as well as the China Commercial Space Alliance (CCSA), an alliance of Chinese space companies founded in 2019. At the CCSA booth, there were also representatives from China Volant promoting Chinese commercial firms members of the alliance. China Volant can be seen as the commercialization entity of CASIC and analogous to CASC's CGWIC.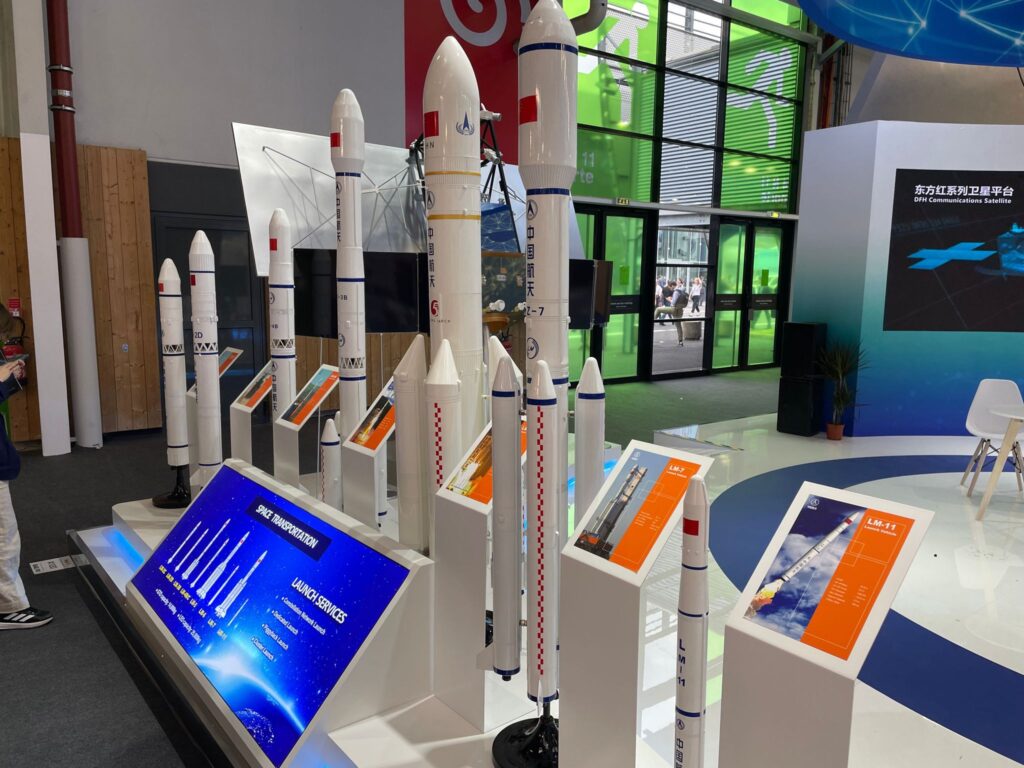 Also worth mentioning, the Center for Space Utilization of the Chinese Academy of Sciences (CAS CSU) also had a booth. CAS CSU is in charge of the space science experiments taking place in the Chinese Space Station, and its presence at the Paris Air Show aimed at promoting collaboration opportunities on-board the CSS with foreign agencies and companies.
Interviews with Two Launch Companies
During my visit at the Paris Air Show, two commercial launch companies, CAS Space and Galactic Energy, accepted to be interviewed by Dongfang Hour. This was a fantastic opportunity to ask questions on the strategy and the progress of both companies. A transcription of the conversation with Claire Wu of Galactic Energy can be found below. The conversation with CAS Space will be published in a separate post.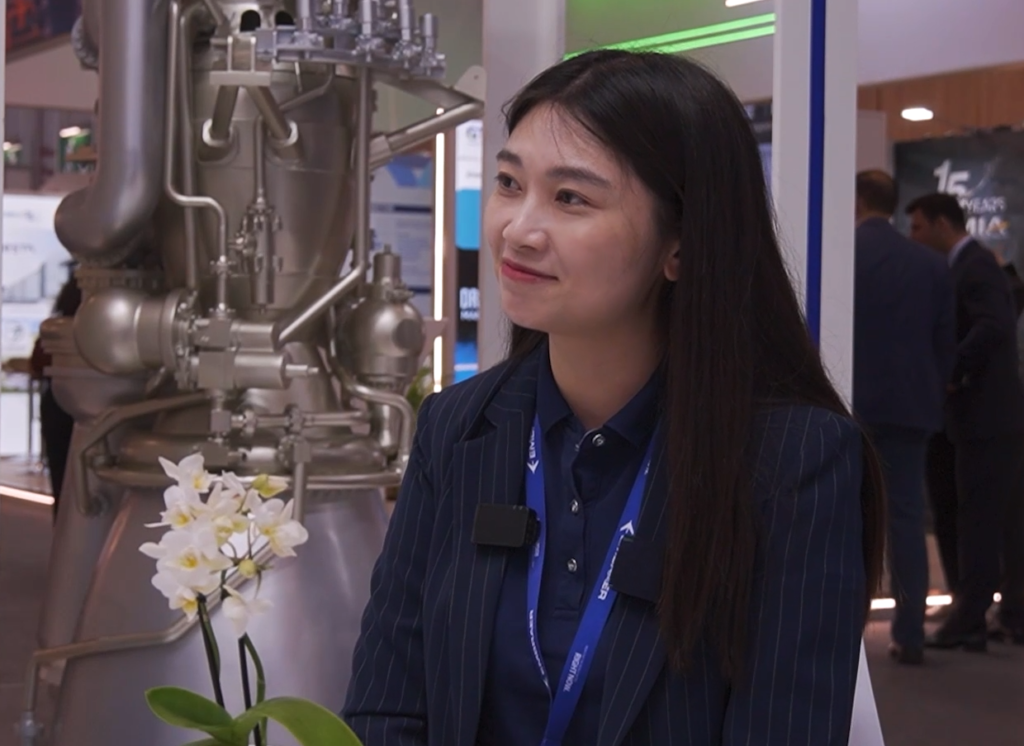 Galactic Energy – interview of Claire Wu, Public Relations Director
Jean: Thank you so much for accepting this interview with Dongfang Hour. To get started, could you introduce yourself?
Claire: I graduated from the Communication University of China, and majored in International Communication and English. I joined Galactic Energy around 2019 as the company's Public Relations Director, and I am responsible for the company's branding and communication.
Jean: Is this the first time that Galactic Energy is joining the Paris Air Show?
Claire: That's correct, as a representative Chinese commercial company, we want to showcase China's commercial space industry, use the Paris Air Show as an opportunity to present our company, and enable China's commercial space industry to adopt a more international approach.
Jean: Let's discuss a little bit Galactic Energy's rockets. So far, you have one rocket in service: the Ceres-1, which is solid-fueled. It has had an impressive success rate of 100%, and a total of 5 launches. There is also another launch planned really soon. What are you looking at in terms of the ramp-up of launches in 2023 and 2024?
Claire: In the second half of 2023, we plan to have 6 to 8 launches, including two sea launches. And between 2023 to 2024, we hope to have 10 to 20 launches in total (of the Ceres-1)
Jean: That's a very significant ramp-up. You mentioned sea launch: What is the objective of launching from the sea as compared to launching from the Jiuquan Satellite Launch Center?
Claire: It's to reach different orbital inclination angles. The Ceres-1 is a fast-response launch vehicle. It can launch from a dedicated transporter erector vehicle but can also do so from a ship. Our customers request specific orbital parameters and based on our customers' requirements, we determine which launch site is best suited for each launch. The (upcoming) sea launch will be the first time we use China's Dongfeng spaceport.
Jean: OK so you will launch from Jiuquan, you will also do sea launch. Sea launch will take place in Shandong province?
Claire: Yes, the Haiyang port of Shandong (where the Dongfeng spaceport is located).
Jean: And in Wenchang, a commercial launch base is currently being constructed, including two pads for solid-fueled rockets. Is that being considered as well for the Ceres-1?
Claire: We may perform the launches of our liquid-fueled rockets in Wenchang. Our liquid-fueled rocket, the Pallas-1, will perform its maiden launch in 2024. For its launch site, we have considered the Wenchang launch center, but also the Taiyuan launch center in Shaanxi. Right now, the launch site is not yet 100% confirmed.
Jean: And this is a nice transition to the Pallas-1. As you mentioned, this is a liquid-fueled rocket, with a significantly higher payload, a big step up for Galactic Energy. You mentioned 2024 for the maiden launch. Are we talking about the second half or the first half of 2024?
Claire: The maiden launch will take place in the second half of 2024.
Jean: How has the development of the Pallas-1 been going?
Claire: We have already finalized several full system test runs of the Cangqiong engine (aka the Welkin engine). We will continue to test the engines until they reach certain accumulated run-time targets. Typically, we want to exceed a total run time of 10,000 to 100,000 seconds. The Pallas-1 has also completed certain assembly tests: in Anhui province's Chizhou city, we have set up a rocket assembly facility where we assemble our rockets and perform assembly and testing.
Jean: One other topic that's very hot in the launch sector is reusability. Let's look at Chinese commercial launch companies: if we take Landspace for example, they seem to be doing things in two steps: the Zhuque-2 (methalox-fueled rocket) is first expendable, (with) possible modifications in the future to be reusable. If you look at Space Pioneer, they have the Tianlong-2 which is expendable at the moment but looks like a reusable rocket on their website. On the other hand, Deep Blue Aerospace have used their Nebula-M demonstrator to do vertical take-off vertical landing low-altitude hops already.
What approach are you looking at with the Pallas-1? Are you hoping to make it reusable at the first launch or second launch, or much further down the line?
Claire: Our first launch will not be reusable. It will be an expendable, similar to other commercial launch companies. But we will likely attempt to deploy payloads into orbit. Basically, reusability is a technology that takes time to develop. Currently, our company has started certain rocket reusability tests, including VTVL tests similar to SpaceX's Grasshopper (in 2012-2013). We have reached 50m high tests at the moment [EDIT] We are now ready for 50m altitude tests. However, regarding higher altitude tests, 100m or 1km, I am not able to provide a timeline. What is certain is that we are currently developing the (necessary) technologies for rocket reusability.
Jean: That's very interesting! So a 2-step approach, very similar to other Chinese commercial launch companies. I remember that in an animation of the Pallas-1, it lands vertically on some sort of oil platform. Is that what is planned today or are you planning drone ships perhaps like SpaceX?
Claire: That is part of our long-term strategy. Basically in our company's roadmap in the next 10 years, we plan to develop space tourism services, and in 20 years, we want to achieve asteroid mining. All of these projects will very likely depend on the launch capabilities of our Pallas-1 rocket. So reusability will be key to helping us lower our costs. Landing at sea or on an oil platform is something that is on our company's roadmap, but they are long-term objectives.
Jean: Let's talk a little bit about the market for commercial launch. It seems that when we look at the launch market in China, one potential very big customer is going to be this "Chinese Starlink", a constellation of ~12,000 satellites. This could be a huge contract for commercial (launch) companies. Do you believe that commercial companies have an opportunity to launch satellites for this constellation?
Claire: There is a very good chance that we obtain launch contracts to deploy the SatNet/Xingwang constellation. Our Pallas-1 rocket will be reusable, this can significantly lower the costs of launch. It is a very good complementary asset to China's "national team" of state-owned rockets. The deployment of SatNet/Xingwang will involve sending massive amounts of payload into orbit: tens of thousands of satellites similar to Starlink, possibly more. So you can see things like this: our rocket, the Pallas-1, can send several dozen satellites to orbit, just like other commercial launch companies. Together, we can launch several hundreds of satellites. So you can consider that commercial companies could capture this market together, and obtain a part of the "national team's" launch contracts. The "national team's" rockets may also not have sufficient capacity to launch the entire constellation, so we would be providing this additional capability.
Jean: I remember discussions around some quick math: if you take the number of SatNet/Xingwang satellites, roughly 12,000, and you divide that by the payload capacity of the Long March 8, that's easily dozens and dozens of Long March 8s to launch every year. That seems like a lot, and so it makes sense that commercial companies could provide a complimentary launch capacity, as you've mentioned.
Claire: Yes, absolutely. We will mainly provide complimentary launch capabilities.
Jean: On Galactic Energy presentations, we sometimes see a heavy version of the Pallas-1 with two strap-on boosters. Is that still also on the roadmap?
Claire: Yes, it is on our company's roadmap. This architecture with two strap-on boosters can increase our payload capacity. With two boosters, the payload capacity to LEO increases to 14 tons. This basically doubles our current Pallas-1 payload capacity.
Jean: 14 tons, we're getting close to the capacity of the Falcon 9 which is deploying Starlink today.
Another perhaps tricky question: today there are many commercial launch companies in China: easily 10, and probably more. Each company is planning at least 2-3, maybe 4 rockets, that's 30 to 40 different commercial rockets. How do you see the market in the future? do you think the Chinese launch market can sustain so many rockets or do you see a strong consolidation in the coming years?
Claire: From our perspective, many launch companies today, including both state-owned companies and commercial companies, are offering a variety of different launch products. These cater to the different requirements of the market. For example, there are some companies that are developing suborbital rockets, there are others like ourselves developing solid-fueled fast-response orbital rockets that are able to consecutively launch multiple times, and finally there are companies developing liquid-fueled rockets and technologies related to reusability.
Today, rockets are the only tool to enable access to space, so I believe that the market is sufficiently large. In our societies' quest for space, there will be more demand and more requirements. So far, with our small (solid-fueled) rocket we are able to provide a responsive launch capability. With our larger (liquid-fueled) rocket, we will address the deployment of large constellations. For the defense sector, we are currently developing (supersonic) targets. And perhaps in the future, we have on the roadmap to develop suborbital space tourism spacecraft. So I think that every market has different requirements and our company strives to design products that can satisfy these different requirements.
Jean: That's good to hear, so a lot of optimism for the market potential of launch companies. Beyond the "Chinese Starlink", aka Xingwang, What other opportunities do you see? Which other parts of the launch market do you think are the most accessible and largest in size?
Claire: From our perspective, beyond launch opportunities with Xingwang, we can also turn to opportunities with Chinese commercial satellite companies. For example Galaxy Space, who have some constellation plans, or existing customers like CGSTL, or other companies like Zero Gravity Labs. They all have constellation plans.
So beyond launch opportunities with the "national team", we also want to address the domestic commercial launch market, as well as international smallsat launch opportunities.
Jean: How many launches of the Ceres-1 or Pallas-1 do you think you would need per year to be sustainable, to reach some level of profitability?
Claire: At the moment, with the Ceres-1 rocket in service, we already have our own means to generate revenue. But in parallel we are developing the Pallas-1, which requires long-term R&D effort and a lot of money.
So far, our current launch services with the Ceres-1 rocket generate revenue which can cover our operational costs. But for the Pallas-1 rocket, we will need to raise more funding from investors or get additional support from local governments.
Jean: We've certainly noted that Galactic Energy alongside iSpace and Landspace, are some of the (Chinese) commercial companies that have raised the highest amounts of funding from investors so far. That has been very impressive.
Claire: Currently we are in the process of raising a new round of funding, we should be able to close it in the coming months.
Jean: Moving the discussion away from rockets, let's look at the launch companies outside of China, and specifically the US. We see companies like SpaceX, Firefly, Blue Origin, and Rocket Lab going beyond the launch market and looking at opportunities with lunar missions: Starship is also a lunar lander (HLS), Blue Origin also got selected recently by NASA, Firefly is doing CLPS missions, and Rocket Lab has the Photon satellite bus.
Are you exploring in the short-term or medium-term some non-launch projects, maybe (commercial) cargo, …?
Claire: In China's launch market, there are a lot of different companies developing a variety of products. Just like what we discussed earlier, some are developing suborbital rockets, some are developing solid-fueled and liquid-fueled rockets. Regarding our company, we want to first develop reusable rocket technology and enable our Pallas-1 to be reusable. This will enable us to engage in developments in other areas of the space industry, ensure that we can provide space tourism services in the future, and further down the line to engage in space mining projects. Right now we are mostly focusing our efforts on our launch vehicles.
Jean: So launch services in priority, and then potentially suborbital space tourism and space mining in the future. Thank you very much for your time, Claire, this was really interesting.
Claire: Thank you
This interview can be viewed on YouTube (English subtitles available). The transcription has been slightly modified for ease of reading purposes.