The China International Aviation & Aerospace Exhibition, also known as the Zhuhai Airshow, is among China's largest industry-focused exhibitions, and the largest air show in China. Held mostly every other year, and most recently in 2018, the event attracts hundreds of thousands of attendees and features a variety of aircraft and related technologies. In recent editions, we have seen an increasing amount of space industry activity, with multiple SOEs and at least one commercial space company (iSpace) appearing in 2018.
As it turns out, 2018 was just a warmup, however, with 2021's edition featuring an unprecedented amount of space industry activity. The show took place from 29 September to 3 October, and saw commercial space contracts, space program announcements, and new product debuts, in what was arguably the most significant week in Chinese commercial space of 2021. Sorting through the avalanche of activities, there are a few clear trends that emerge from this year's Zhuhai Airshow.
Emergence of Commercial Space
One of the best examples of the recent rise of China's commercial space sector is the number of commercial space companies attending the Zhuhai Airshow. In the 2018 edition, we saw 1 commercial space company with a booth (iSpace), while this year, there were dozens of commercial satellite manufacturers, launch service providers, and other companies showcasing their products or services.
Among the commercial space companies were several highlights. Quite a few commercial launch companies showcased their latest and greatest rockets. Hypersonic plane company Space Transportation, fresh off of several big funding rounds in the past few months, had an impressive booth showcasing their Tianxing-I suborbital launch vehicle, which coincidentally completed its 4th test flight during the week of the show. EO satellite operator Zhuhai Orbita had a large booth at the show, while a new commercial satellite manufacturer—Shanghai-based Huhang Satellite (沪航卫星) –debuted with a booth at the show.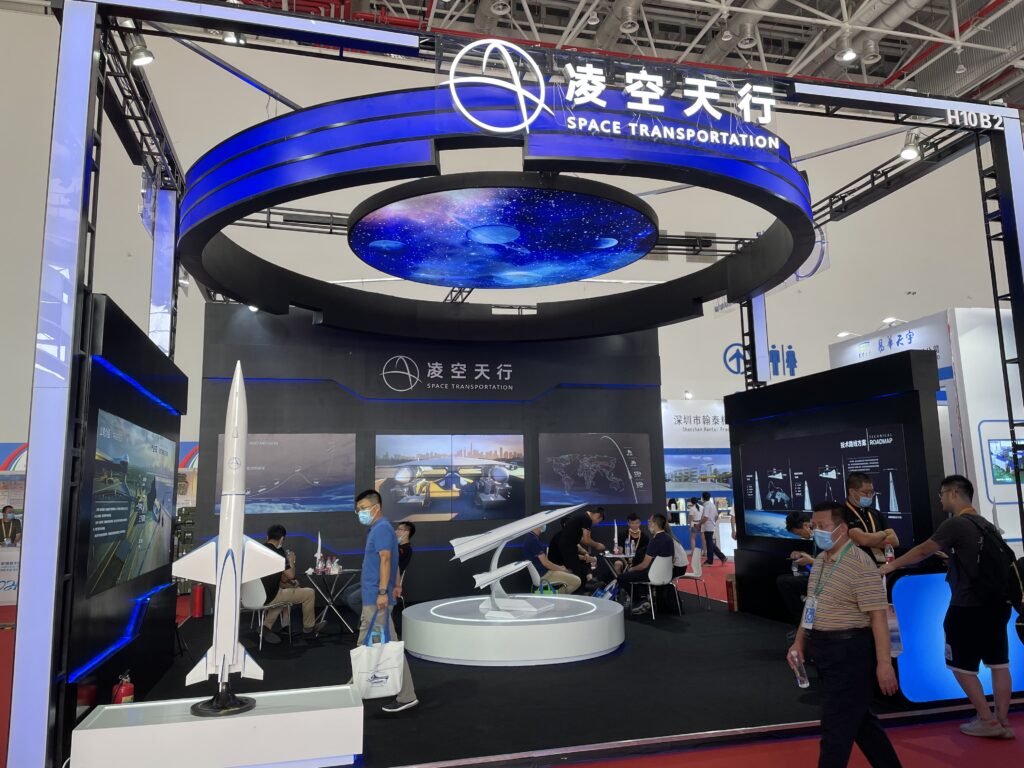 The growing presence of commercial space companies at this year's air show was a continuation of a trend we witnessed at the China Space Day Conference in April 2021, at which time several major state-owned enterprises (SOEs), including China Rocket, highlighted the importance of commercial satellite manufacturers as a source of demand for launch companies. Ultimately, the commentary at China Space Day proved prescient, with the Zhuhai Airshow seeing a flurry of deals being signed, with almost all of them involving commercial space companies buying products or services from the SOEs, which ultimately still stole the show.
The State Remains the Dominant Player
Despite the huge increase in commercial space activity, the traditional space sector still won the lion's share of contract signings, and with many substantive announcements coming from CASC and related subsidiaries. The most active CASC subsidiary during the show was the China Great Wall Industry Corporation (CGWIC), which inked a handful of contracts with Chinese commercial satellite manufacturers for launch services.
Among others, companies such as Galaxy Space, MinoSpace, ADASpace, and GeeSpace signed contracts with CGWIC for what was usually described as a shared launch service. Noteworthily, most of the agreements are for launches set to take place next year, including 6x comms satellites to be launched for Galaxy Space, and 7x EO satellites to be launched for MinoSpace.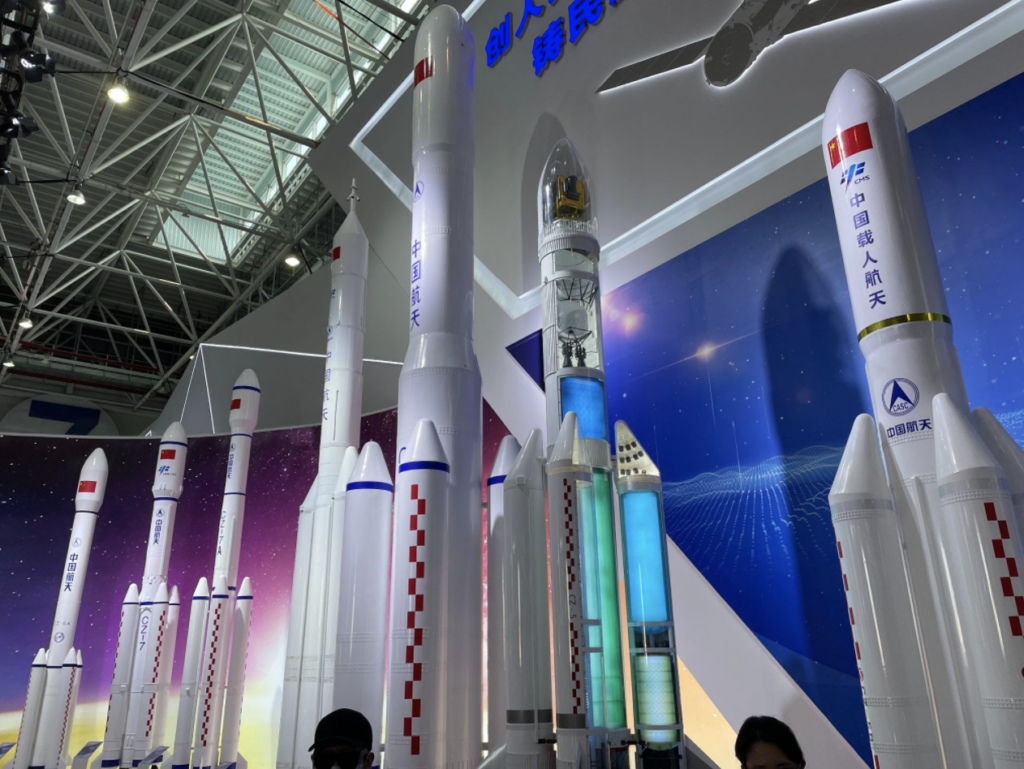 Most of the launches by these commercial satellite manufacturers will be using the Long March-8, which was also featured at the show. During the show, we heard from LM-8 Chief Engineer Xiao Yun, who noted that CALT was considering up to two dedicated launchpads at Wenchang Launch Center for the LM-8, and that they plan to eventually reach capacity of 50x LM-8 launches per year. This would be an unprecedented ramp-up of capacity, with the rocket only having made its maiden flight in December 2020, but would also be welcome given the number of LEO comms satellites China may be launching in the coming several years.
We also saw a couple of other launch deals, notably one between Spacety and China Rocket, and also one between MinoSpace and Galactic Energy. Also interesting to note is the fact that MinoSpace has apparently spread their launch demand around, with deals signed with both CGWIC and Galactic Energy.
Other major updates from the traditional space sector include the debut of China's first Mission Extension Vehicle (MEV), manufactured by the 805th Institute of the Shanghai Academy of Spaceflight Technology (SAST). The MEV is capable of carrying ~1.3t of propellant, which would be used to extend the lifetimes of in-orbit satellites. We also saw the formal announcement of the Tianxian constellation, a 96-satellite SAR EO constellation being developed by Spacety and the 38th Institute of CETC, the latter a major SOE. The constellation will begin deployment next year, building on technologies proven by the Haisi-1 SAR EO satellite, manufactured by Spacety and launched in December 2020. Finally, the YF-102 engine made its debut appearance, with some speculation by Dongfang Hour co-host Jean about its purposes.
Other Space Sector Highlights
Apart from Chinese commercial space and the traditional space players, the Zhuhai Air Show played host to a variety of other, sometimes unexpected guests. Boeing had a massive booth, which given the aviation nature of the conference, is not surprising. The presence of a dedicated United States Pavilion, however, was more of a surprise, given the current state of US-China relations. Like each edition of the show, the pavilion traditionally consists of smaller size companies making specialty aviation-focused materials and other products.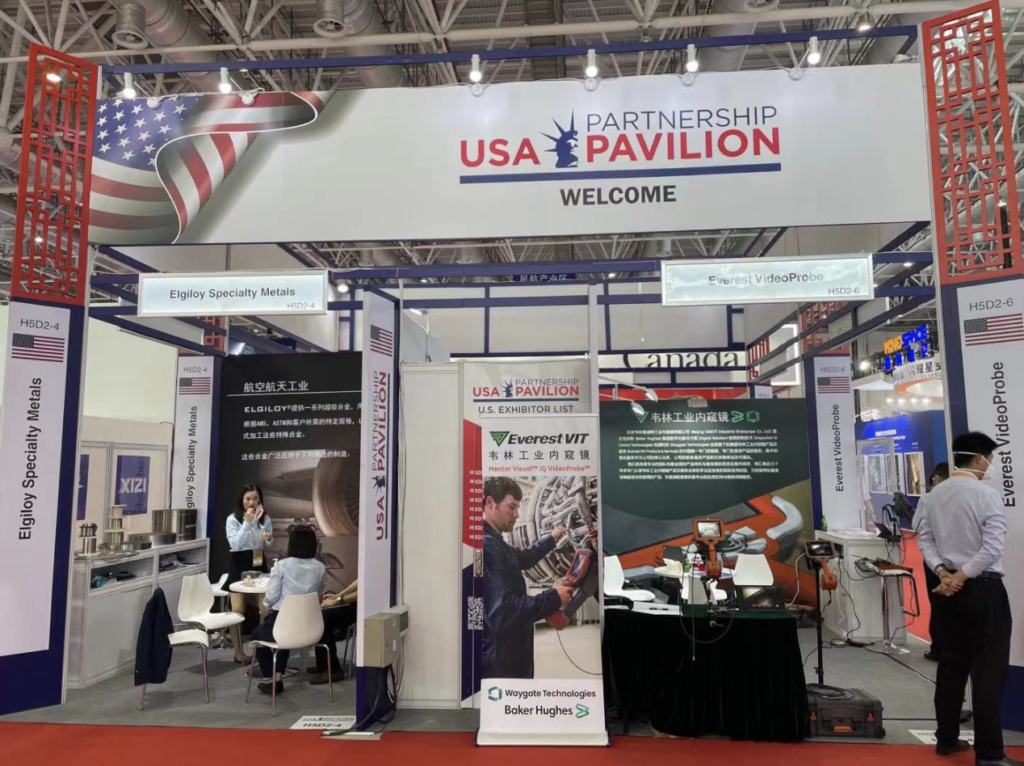 The CNSA was also there in force, showing off the real-life Chang'e-5 return capsule, displayed alongside actual lunar samples from the successful mission. We also saw China's Next Generation Crewed Vehicle (NGCV), which is comparable to NASA's Orion spacecraft, capable of holding up to 7 taikonauts and having been tested in 2020 onboard the maiden launch of the LM-5B. We also saw a couple of hypersonic spaceplanes, including a feature of the CASIC Tengyun, one of their "Five Clouds" that also include 2x communication constellations.
Other highlights included a lineup of the Long March rocket family, a mockup of Tianwen-1 and Zhurong Mars Mission, and a whole bunch of other Chinese space industry hardware.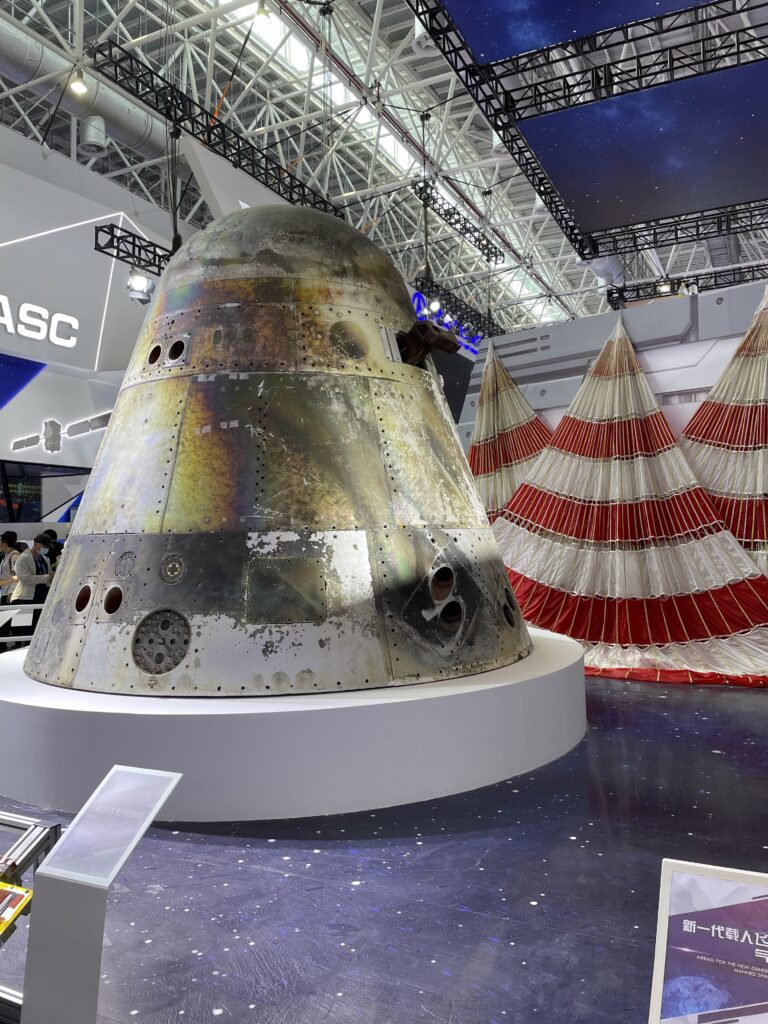 Conclusions: One Heck of an Air Show
The Zhuhai Airshow remains China's largest aviation-focused exhibition, and ultimately, space remains a relatively small part of the event. However, with every passing edition, space is playing a larger role, and with every passing year, SOEs from other parts of the economy—including aviation and aerospace—are increasing their focus on the space sector.
While the biggest space-related updates this year came from CASC, CASIC, and commercial space companies, future editions of the show may very well see traditional aviation companies—most notably AVIC but also potentially others—making space-related announcements, in addition to their aviation-focused ones. AVIC for example has already invested in the space industry, including taking part in a round of funding in commercial satellite company Commsat in 2020.
Overall, when we look back on the 2021 Zhuhai Airshow, we may consider it the year of the emergence of China's commercial space sector, and the year that space first started making a major splash in Zhuhai.
A final note of thanks to friend of the podcast LAN Tianyi for taking the above photos while attending the event.